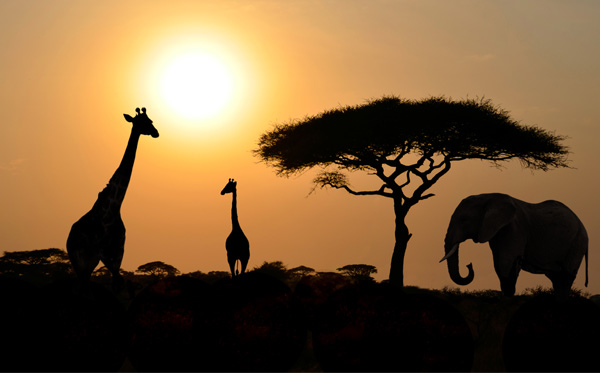 Home Base
At the center of the Western Rift Province, the home of the Kalenjin tribe of Kenyans known for their running ability, lies the town of Iten.  It's also the home of World Champion Lornah Kiplegat – who is our host at her High Altitude Training Center (HATC) – and the site of world famous St. Patricks High School and the legendary coach, Brother Colm. The school grounds are filled with trees planted for each World Record holder or Olympic medalist that has graced it's halls. Enjoy wandering the quiet, village streets of Iten as you soak in the Kenyan culture.
Located at 8000 ft above sea level, with majestic views into the valley, Iten is the perfect place to follow in the steps of hundreds of elite runners on the famous red-clay roads of Kenya
Service
Rewarding experiences will be had from teaching the students at Kamirany Primary School, located opposite Kamirany Stadium – the dirt track where hundreds of professional runners train on a daily basis. Your fundraising efforts will be used for our building projects at Kamirany as we continue to assist the school in constructing classrooms to update their current campus. We help to teach Mathematics, English, and P.E. alongside Kenyan teachers.
Cultural exchange will be an ongoing part of your experience as you help KenSAP students, Kenyan high school graduates that will be attending colleges and universities in the States, prepare for their entrance exams and essays. Don't worry, it won't all be hard work! You'll also enjoy sharing stories and playing board games with KenSAP students in the evenings.
Training Facilities
The HATC and surrounding area has all the basic needs of a budding athlete. Head out on the red clay roads of Kenya and run side by side with barefoot school children or professional runners. Use the track for a speed workout or lift weights to strengthen major muscle groups in the first class fitness center facilities located within the HATC. There is a swimming pool, soccer fields and basketball courts for other types of athletes. In other words, everything an athlete would need for a productive summer of training!
Adventures
Your everyday life in Iten will be an adventure in itself! Walking to and from school each day or simply exploring the small town-center can be an eye-opening experience. Weekends will allow time for your group to explore even more of the Rift Valley, with trips to nearby Lake Baringo, other schools, or the tiny town of Kitale – home of professional runner and friend of STRIVE, Wesley Korir!
Your adventure culminates at the end of your program with a visit to the Masai Mara Game Reserve. You'll travel by jeep during the day, sleeping in rustic bungalows, and – if the time is right – witness the great migration of wildebeest and zebra across the plains. Keep your eyes peeled for the remaining "Big Five" – lions, elephants, rhinos and more! Your trip ends with a home-stay in a local Masai Village, where you can experience first-hand the intricacies of their unique, nomadic lifestyle.
Accommodation
Stay in a room with 1-2 other STRIVE participants, complete with ensuite bathrooms and solar heated showers. Rooms look out onto a grassy courtyard which is a great place to relax after a hard day of work and training. From your rooms, head over to the dining room next door where the in house chefs cook up a mix of tasty western and local fare specifically designed for athletes in training.
Tuition includes: All lodging, meals, beverage with meals, coaching, domestic airfare and other ground transportation, excursion entry fees, training facility entry fees, community service activities and supplies, group tips for in country assistance.
Tuition does not include: International airfare, Visa charges, overweight luggage fees, snacks and beverages outside of meals, personal spending, massages and sports therapy services, internet or cell phone access fees, tips for additional assistance (e.g. sports massage, etc).
Want more on STRIVE-Kenya?
Read an overview of the STRIVE-Kenya Program
Explore a sample itinerary
Check out our in-country accommodations
Read some Frequently Asked Questions about STRIVE-Kenya
See what some of our past participants had to say in our testimonials page
Ready to Apply? Click here!
Still have questions? Contact us!