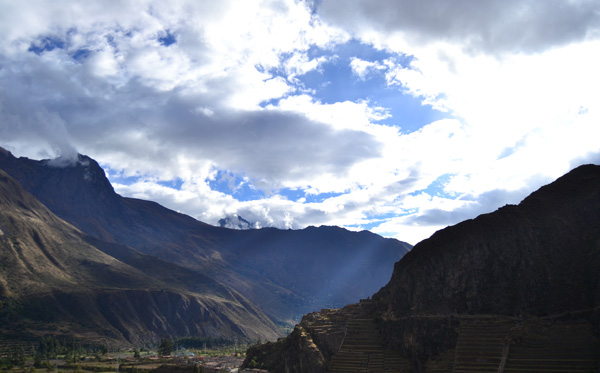 Home Base
In Peru's Sacred Valley, STRIVE student-athletes will enjoy settling into their Andes lodging in the colorful town of Pisaq.  Located at 9000ft above sea level and about 40 minutes down the mountain from the ancient Inca city of Cusco, Pisaq is best known for its Sunday market, which draws hundreds of local and foreign shoppers each week. In spite of its popularity, the market retains much of its local charm, especially in the sections where villagers from miles around gather to barter and sell their produce.
Pisaq is also home to an Inca citadel, set high above the valley floor, patch-worked by patterned fields and rimmed by vast 500-year-old terracing, visible off in the distance as you wander around town haggling for Peruvian textiles and enjoying local delicacies.
Service
Prepare for days of rewarding work teaching primary students at a nearby school.  Embrace your creativity as your create English, Art and P.E. lesson plans that will bring smiles to the faces of exuberant learners. After a relaxing lunch, get ready for an action packed afternoon at the STRIVE Center where you might be leading athletic workshops, tutoring students in English or engaging in cultural exchange activities.  And last but not least, don't forget your work clothes.  There may be days where you need to get "dirty" – clearing the track of rubble, painting an inspirational mural, or building a classroom.
Training Facilities
The dirt roads hugging the curves of the Vilcanota River will be your main training grounds if running is your passion.  If you're not a runner, the training facilities on-site are as impressive as the views. You'll be able to work out daily in the gym or even take a bike out along the river roads. There truly is something for every athlete: basketball courts, soccer fields, and just about anything your inner athletic soul could desire.
Adventures
The views and experiences are only the beginning of your adventure as, on the weekends, you'll enjoy day-trips through the Sacred Valley. Be it attending a professional Peruvian soccer match, hiking up and exploring the Pisaq ruins – a beautiful prelude to your visit to the incomparable Machu Picchu, or simply spending your free time exploring the market and immersing yourself in the culture and language, the Sacred Valley always has something more to offer.
Accommodation
Upon initial arrival in Peru you'll meet your group leaders in Lima and fly as a group to Cusco where our private transportation will meet us and bring us directly to Pisaq. You'll stay at the beautiful Chaska Wasi Hotel, a tranquil location on the river banks with the rooms set around a beautiful, sunny courtyard perfect for a game of cards, a solitary reading session, or a group meeting.
Language Opportunities
Although you don't need to know Spanish in order to participate in STRIVE-Peru programs, some knowledge of Spanish will help and you're certain to get more out of your trip if you try to engage with the local people. If you have studied Spanish in the past, being surrounded by the language during this program will only enhance your ability to converse. It's a wonderful opportunity to surround yourself with Spanish to improve your language abilities.
If you are new to Spanish or wish to improve your Spanish before your trip, we highly recommend taking part in the STRIVE Spanish Immersion Program. Many of our students have voiced enthusiasm over learning Spanish during the trip, with a majority expressing a wish for a longer program. With this in mind, we have added an optional week-long program for students who wish to immerse themselves in Spanish language during their trip. Click here for more information on STRIVE's Spanish Immersion Program.
Tuition includes: All lodging, meals, beverage with meals, coaching, domestic airfare and other ground transportation, excursion entry fees, training facility entry fees, community service activities and supplies, emergency medical and political instability evacuation insurance, group tips for in country assistance.
Tuition does not include: International airfare, Visa charges, overweight luggage fees, snacks and beverages outside of meals, personal spending, massages and sports therapy services, internet or cell phone access fees, tips for additional assistance (e.g. sports massage, etc).
Want more on STRIVE-Peru?
Read an overview of the STRIVE-Peru Program
Explore a sample itinerary
Check out our in-country accommodations
Learn Spanish through the Spanish Immersion Program
Read some Frequently asked Questions about STRIVE-Peru
See what some of our past participants had to say in our testimonials page
Ready to Apply? Click here!
Still have questions? Contact us!