This schedule is flexible and will change from trip to trip, based on the wants and needs of each particular trip. We are always tweaking and altering our trips to best suit the individuals of each trip and to account for the inevitable unpredictability that comes from travel in a foreign country. This is an example schedule of what programs in the past have looked like. Your trip will likely look similar, but remember, this is YOUR trip and we design the trip around YOU.
Day 1 – Arrive at Nairobi International Airport where you'll be greeted by your STRIVE group leaders and meet the rest of your trip-mates! Our private transport will then take you to a nearby hotel where you'll spend your first night in Kenya.
Day 2 – Catch an early-morning flight from Nairobi to Eldoret in the Rift Valley. Once there, our private transport will take your group to the High Altitude Training Centre (HATC) in Iten. Take the afternoon to get familiar with your beautiful new surroundings and begin to acclimatize with a slow afternoon run or workout in the gym.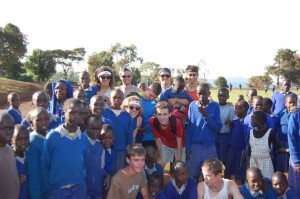 Day 3 – Walk into Iten's town center  and visit the local track or primary schools. Continue with acclimatization, taking the running slowly and learning the local routes.   See some of the professional runners working out at the legendary "if you build it they will come" Kamirany Stadium.  Meet Lornah Kiplegat – world record holder, world champion, olympian, and owner of HATC.
Days 4 to 8 – Wake up early and get your run or workout in before heading to school. Spend mid-day working in the classroom teaching before heading home for a quick rest. If ready, use the afternoon to work out, swim, and/or run again. If not, use the time to rest or explore Iten with your group leaders and trip-mates.
Day 9 – Get in an early long run on the beautiful roads surrounding Iten. In the afternoon, work with KenSAP students on preparing for life in the US or taking the SAT. Later, take a tour of St. Patricks and meet legendary coach Brother Colm, who  has coached numerous record holders, world champions, and gold medalists that have passed through St. Patricks – including 800m champ David Rudisha.   If we're lucky there might be a Rudisha sighting (see below)!
Day 10 – Take today as an optional training rest day. Head out of town with your group for a day trip to hike through the nearby national park, return in the afternoon for an optional easy workout and time spent on your service project.
Days 11  – Change of scenery! Visit the home-town and brand new training camp of Wesley Korir – Boston Marathon champion. Take the opportunity to work on a service project in his town and maybe even spend some time with Wesley himself!
Days 12 to 16 – Return to Iten and get back in the rhythm of training and service. Spend mornings and afternoons running and/or working out in the pool or weight room and mid-days working on service in the local schools.
Day 17 – Another early long run through the now familiar red-clay road surrounding Iten. Spend the rest of the day having a relaxing brunch and then take a visit to St. Patrick's school, home to future track and marathon stars!
Day 18-19 – Get in one last morning run in Iten and bid farewell to your friends from the school with one last day of service. Spend the final night at a celebratory dinner with your , group leaders, and new friends!
Day 20 – Squeeze in an early run before departing for the Masai Mara for your safari. Spend the drive admiring the incredibly diverse scenery and bonding with your trip-mates. In the evening, take your first game-drive through the national park and have your cameras ready for sightings of the "Big Five"!
Day 21– Take an early morning run around the national park campsite to loosen up before a day-long safari game drive. Keep your eyes peeled for lions, elephants, zebras, and more!  In the afternoon visit a local Masai Village where you'll learn about their customs and way of life.
Day 22 – One more morning run before your last game drive through the Masai Mara. In the afternoon, transfer to Nairobi and catch an evening flight home. Arrive home the next day and  tell all your friends about your amazing trip!
Want more on STRIVE-Kenya?
Read an overview of the STRIVE-Kenya Program
Explore a sample itinerary
Check out our in-country accommodations
Read some Frequently Asked Questions about STRIVE-Kenya
See what some of our past participants had to say in our testimonials page
Ready to Apply? Click here!
Still have questions? Contact us!