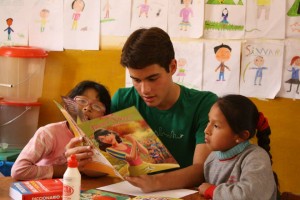 The STRIVE Center is an on-going project with a goal of providing a safe space for education and youth empowerment in local Peru. Starting in 2013, STRIVE began developing a space at Bernardo Tambohuacso Pisaq school (see STRIVE Center 1.0 below), before moving the project to a private space in 2015. Currently, the STRIVE Center operates year round, offering free after-school classes for local children and evening language classes for adults.
Learn more about the history, mission, and goals of the Center below and find out how you can support.
2015 Update: STRIVE Center 2.0
During the summer of 2015, STRIVE realized that the construction project at Bernardo Tambohuacso Pisaq (the school at which the Center had been located) was drastically behind schedule (over 2 years and counting).  Our original Center had been in use as a temporary classroom since STRIVE furnished the space in 2013, due to the need of the school for more classrooms while it underwent a serious construction project. We were excited to see our space being used, but it seemed that the school would be needing it for an indefinite period and it was unlikely we'd be able to share the space.
With construction looming farther and farther behind schedule, STRIVE staff and participants put their heads together and found a new space in town that was available to rent.  Our 2015 Summer STRIVErs helped to make this new Center a reality: by moving furniture from the former site, cleaning, painting and simply getting the space ready to host our free after-school classes. The Center currently employs a teacher year round and offers free after-school classes three times per week thanks to generous donations from STRIVE participants and friends. Volunteers also help keep the Center running, by helping out for as little as one week or as long as several months during the year.
The STRIVE Center 1.0 (2013-2014)

In 2013, STRIVE began its most ambitious project to date with the development of the STRIVE Center for Health and Learning (or, The Center, as we've grown to call it). The Center began as an empty shed next to the Bernardo Tambohuacso Pisaq school, with which STRIVE was working in the summer of 2013. In less than six short weeks that summer, STRIVE made enormous progress towards changing that empty building into a semi-furnished, functional educational center.
With just over $6000 and the efforts of 30 motivated and inspired people, approximately one third of the Center was finished, with electrical wiring throughout the building, a new floor, freshly painted walls, replaced windows, light fixtures, study-tables, bookcases, school supplies, and a lounge area for students to relax.
Want more on The Center?
Discover the History of the Center
Read the Center's Mission Statement
Check on the Center's Current Status
Learn about Future Work for the Center
Find Out How to Support the Center