Rob Martin
Director/Co-Owner
Rob@STRIVEtrips.org
Rob was a high school runner but eventually found himself on the coaching side of things once he reached college. His itch to get out of the Midwest eventually got the best of him. Soon after graduating from Purdue University, Rob's first trip outside the US landed him in Ntchisi, Malawi where he spent three years teaching high school students, training mathematics teachers, and coaching cross country runners through the Peace Corps. He fell in love with the Warm Heart of Africa, learning to speak Chichewa and greetings in many other Bantu languages. Rob eventually settled in The Big Apple soon after his return from Malawi. He feels that New York brings the world to him everyday he walks out the door.
During his decade of teaching in New York, Rob was lucky enough to coach many state and nationally ranked runners, until the international bug big him again.  In 2010, he found a unique opportunity to combine his travel and coaching experience, being STRIVE's first group leader at it's inaugural session in Kenya. In 2016, Rob accepted a call to be part of a Peace Corps Response group to help reopen Sierra Leone's schools post-Ebola. He is currently training mathematics and science teachers at a Sierra Leonean university before he returns to Kenya this summer with STRIVE. Despite his love of coaching and teaching mathematics, nothing compares with the joy he feels seeing STRIVErs engulfed in the songs, smiles, and hospitality of the peoples of sub-saharan Africa.
Nic Windschill

Nic@STRIVEtrips.org
Director, Co-Owner, Group Leader
A small town boy and multi-sport athlete at heart, Nic began his international travel experience with a semester abroad in Costa Rica.  After getting a small taste of life as an international nomad it was hard for him to focus on anything else.  He finished his degree at Hamline University with a double major in Psychology and Criminal Justice with designs on pursuing a career in the FBI.  One fortuitous phone call shortly after graduation and he found himself on a plane to complete a teaching contract in Guatemala.   One year in Guatemala awoke a hunger and passion to learn about other cultures and other languages. After a short stint as a volunteer at a homeless shelter in New Mexico he was back abroad: eating new foods, learning new languages and absorbing the cultures of the world and playing basketball in all sorts of different countries.  Nic also taught and lived in Thailand, Mexico and Mauritania before finally ending up back in the USA in 2012 when he became an owner of STRIVE.  Maybe after a few more MN winters he'll find himself searching for a home abroad where it's not regularly -20 below zero.
Nic has been with STRIVE since the inaugural Peru program and currently enjoys life as an administrator and group leader.  His extensive traveling experience brings a well-balanced cultural perspective to each STRIVE group and he looks forward to getting to know the individuals from each session. He can't wait to see what the next summer will bring.
Tyler Andrews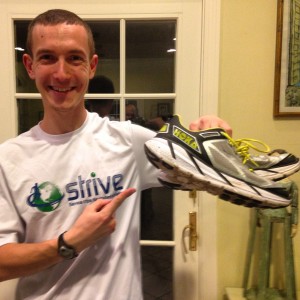 Director, Group Leader, Professional Runner
Tyler@STRIVEtrips.org
Tyler (or Ty) was born and raised in suburban Massachusetts. He hardly left his hometown until graduating from high school and flying a few thousand miles to the other side of the equator to spend a year in Quito, Ecuador. His time abroad in Quito turned out to be a perfect foreshadowing of his passion for service and athletics at STRIVE. While there, he became fluent in Spanish while working in a children's hospital and began to explore his love for running.
As an athlete, Ty has progressed immensely from his humble roots as a high schooler, first competing in NCAA Div. 3 track and cross country for Tufts University before moving to South America to pursue his dream of professional athletics. His big move paid off, as his dedication earned him a sponsorship from HOKA ONE ONE after showing new promise on the roads. Since then, Ty has continued to develop as a professional, improving his marathon time to 2:15 and competing at the US Olympic Marathon Trials, running 1:03 in the half marathon, and twice representing the US National Team at the 50km World Championships where he finished as the individual silver medalist in 2016.  He continues to support STRIVE through his running as well, including setting the World Record for Treadmill Half Marathon as part of a STRIVE fundraiser.
However, Tyler's passion for service and athletics transcends his running career. After first working as a Group Leader on the inaugural STRIVE-Peru Trip in 2011, he now works year-round as an administrator and ambassador for the program. He hopes to continue to lead trips and impart his knowledge and experience in athletics, travel, service, and life with as many young people as possible.