Rob Martin
Director/Co-Owner
Rob@STRIVEtrips.org
Rob was a runner himself in high school although he often found himself on the coaching side of things, eventually focusing on teaching Math and coaching cross country.  However, his itch to get out of the midwest eventually got the best of him. Soon after graduating from Purdue University, Rob's first trip outside the US landed him in a town called Ntchisi where he spent 3 years teaching math and training teachers in Malawi through the Peace Corps.  He was also lucky enough to help start cross country teams at schools he would frequent. He fell in love with the Warm Heart of Africa, learning to speak Chichewa and greetings in many other Bantu languages.  Rob eventually settled in The Big Apple soon after his time in Malawi.  He feels that New York brings the world to him everyday he walks out the door.
During his decade of teaching in New York, Rob was lucky enough to coach many state and nationally ranked runners, but still the itch had begun for him to travel again.  In 2010, he found a unique opportunity to combine his travel and coaching experience for STRIVE, being STRIVE's first group leader at it's inaugural session in Kenya.  Rob has also been heavily involved in his own entrepreneurial efforts outside of STRIVE, running his moving company, "Rob the Mover." He now brings the experience of growing a business from the ground up to the table for STRIVE and has a mind for making the business and community service efforts sustainable over time.  Still, nothing competes with the joy he feels when he sees American kids enjoying the songs, smiles, and hospitality of the peoples of sub-saharan Africa.
Nic Windschill

Nic@STRIVEtrips.org
Director, Co-Owner, Group Leader
A small town boy and multi-sport athlete at heart, Nic began his international travel experience with a semester abroad in Costa Rica.  After getting a small taste of life as an international nomad it was hard for him to focus on anything else.  Before he knew it, he had completed teaching contracts in Guatemala, Thailand, Mexico and Mauritania and 8 years has passed.  30+ countries later and he's finally back in the USA……….for now!
Nic has been with STRIVE since the inaugural Peru program and currently enjoys life as an administrator and group leader.  His extensive traveling experience brings a well-balanced cultural perspective to each STRIVE group and he looks forward to getting to know the individuals from each session. He can't wait to see what the next summer will bring.
Tyler Andrews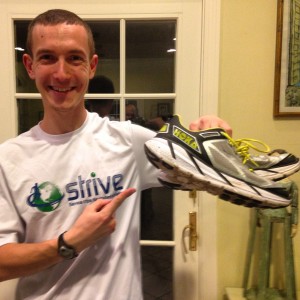 Director, Group Leader, Professional Runner
Tyler@STRIVEtrips.org
Tyler (or Ty) was born and raised in suburban Massachusetts. He hardly left his hometown until graduating from high school and flying a few thousand miles to the other side of the equator to spend a year in Quito, Ecuador. His time abroad in Quito turned out to be a perfect foreshadowing of his passion for service and athletics at STRIVE. While there, he became fluent in Spanish while working in a children's hospital and began to explore his love for running.
As an athlete, Ty has progressed immensely from his humble roots as a high schooler, first competing in Division 3 NCAA track and cross country for Tufts University, a four-time Academic All-American and seven-time All-Conference runner, before graduating and moving to South America to pursue athletics full time. His big move paid off, as his dedication earned him a sponsorship from Hoka One One after running 65 minutes for Half Marathon, 29 minutes for 10k, and making his debut at the Boston Marathon where he finished in the top 30 in 2:21. Since then, Ty improved his marathon time to 2:16 (which ranked him in the top 25 in the US and qualified him for the US Olympic Trials) and his half marathon time to 1:03. Ty even made a debut at the ultra-marathon, finishing as the runner-up in his debut event at the US National Championships for 50K (31 miles), a performance which earned him a spot on the US National Team and an invitation to compete for Team USA at the 2015 World Championships. He continues to support STRIVE through his running as well, including setting the World Record for Treadmill Half Marathon as part of a STRIVE fundraiser.
However, Tyler's passion for service and athletics transcends his running career. After first working as a Group Leader on the inaugural STRIVE-Peru Trip in 2011, he now works year-round as an administrator and ambassador for the program. He hopes to continue to lead trips and impart his knowledge and experience in athletics, travel, service, and life with as many young people as possible.